In Nijmegen, we combine the knowledge of our universities with an array of technologically advanced companies. NXP Semiconductors for example, the country's largest chip manufacturer (based in the region for over 60 years), provides a firm foundation of high tech facilities and manufacturing expertise. Around companies like NXP, Ampleon and Nexperia, a myriad of innovative SME's have found their home. An institute like the Chip Integration and Technology Center (CITC) shows the commitment of the region to the success of the high tech industry. The saying is that there is at least a chip from
By combining the innovative force, research skills and knowledge of Radboud University, Radboudumc and the HAN University of Applied Sciences (Arnhem/Nijmegen), Nijmegen provides a perfect foundation for high tech developments.
In the cluster High Tech we have two focal areas:
Radio Frequency technologies
Chip Integration and Technology center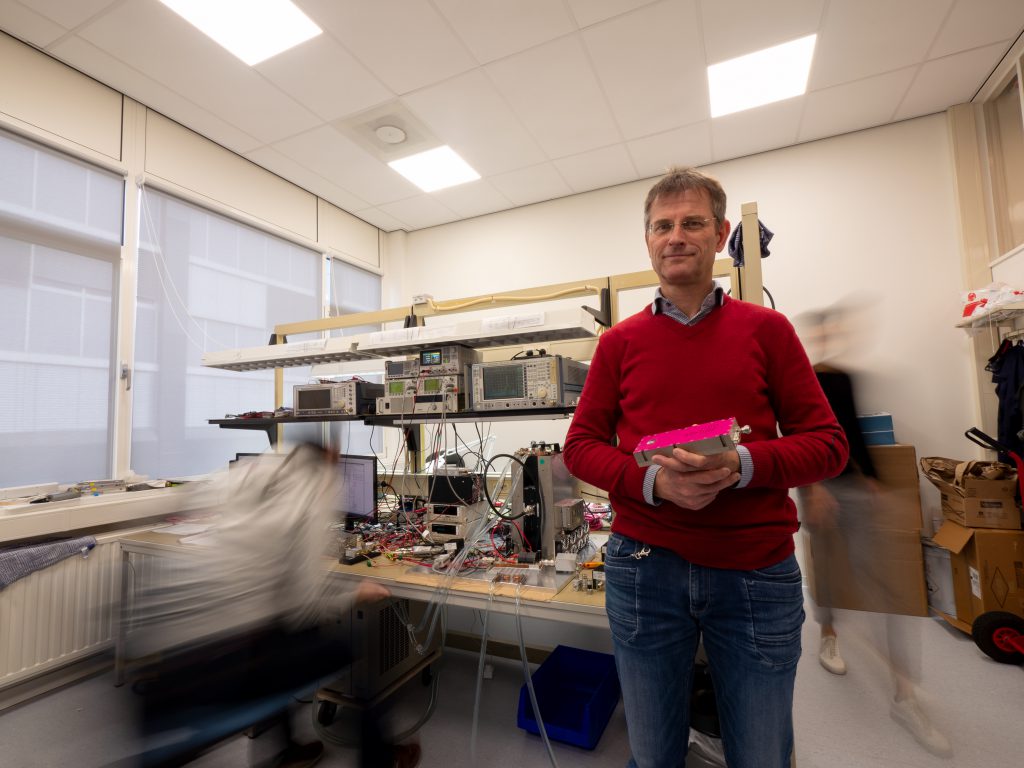 RF-Technologies
Of course RF-technologie is used in 5G technology but also in medical imaging (MRI), Sensing (LIDAR), medical therapy (using heat to treat breast cancer) and targetted heating of food. In the Nijmegen area there are many companies working on the care technologies for RF as well as focused on application areas. One of the activities of this ecosystem is the RF plug and play design center where interested parties can look into the feasibility of RF technologies in their sector together with top experts
Chip Integration Technology Center (CITC)
The CITC is an open innovation center founded by TNO and TU Delft together with NXP, Nexperia and Ampleon to work on innovation in the integration and packaging of electronic chips. Next to the founding partners a range of knowledge institutes and SME companies work in a pre-competition environment on future challenges and solutions in the integration and packaging of chips for a myriad of sectors. CITC is a consortium open for all interested parties and has a focus on research as well as education.
"The health care sector is the largest employer in Nijmegen. Radboud UMC alone has 11,000 employees. And since 1955, we have been producing microchips in Nijmegen. With Briskr, we want to link science to entrepreneurship in both Health and High Tech." Martijn explains that doing research and entrepreneurship cannot exist without each other. "Impact is science multiplied by entrepreneurship. That means that if we do not bring innovation to the market, they will not create impact in the real world." Martijn Kriens, Briskr.
How Briskr supports your health business
High Tech sector of semiconductors is a worldwide market but Nijmegen is a major production facility with a clear focus on innovation and optimisation. For this we at Briskr support startups and innovative SME's with:
targeted workshops
access to risk capital
support to develop a business model
and validation services.
Our network of experienced healthcare innovation partners help us provide all the support you might need to succeed. Contact us for more information.
If you have any questions or just want to know more about our Health cluster.